Locking your bicycle This page is primarily intended for commuters who lock and leave their bicycle where there's significant risk. Let's start with a summary of conventional wisdom:
---
Lock the bike to something that is very strong, very securely anchored, and cannot be disassembled by thieves, such as a parking meter.

Ensure that the bike & lock cannot be lifted over the top of what you're locking it to.

Lock or remove parts or accessories that might get stolen. Many people use a cable to tether their front wheel and seat to their primary lock, or use a second complete lock.

Two complete locks are better than one, especially if both locks are attaching the bike to separate strong immovable objects. Locking the bike in two places also inhibits thieves from using the bike as leverage to break your lock. Whether they succeed or fail, they'll damage your bike if they try.

When using two locks, consider using two different types of good-security locks, such as one U-lock plus one decent chain lock. This requires a thief to be equipped for two types of attack in one visit. But make sure the second lock is a decent one; it's not worth making it different, if it's going to be weak. Two U-locks would be preferable to one U-lock and one cable.

Minimize the "attack surface" of the locks. Fill up the shackle of a U-lock so a jack cannot be inserted into it, and don't leave excess slack in flexible locks or let them reach the ground.

Not all locks are as good as they look, so don't judge by appearance or marketing hype alone. See the SoldSecure rating site for some locks that earned Gold, Silver or Bronze certification in SoldSecure's tests. Also see ART for their ratings; four stars is best. Click the Foto's tonen checkbox for photos.

With any of the following risk factors, strongly consider a top-of-the-line primary lock (ART 4-star plus SoldSecure "Gold" ratings) to immobilize the bike to a very strong, well-anchored object, and also consider the dual-locking technique shown further down this page:

The bike is something thieves would especially want to steal
The bike is parked in a predictable location & timeframe
The area has significant theft risk
If you only need a heavy, top-rated primary lock for one specific destination, such as commuting to work, then you may be able to leave your primary lock there, locked up by itself, so you don't have to carry its weight everywhere.
As a rule of thumb, cable locks are relatively vulnerable. Do not use cable locks as a primary lock, and only use them as a secondary lock if you are satisfied with the limited protection they offer.
All locks can be defeated by a determined, well-equipped attacker. Depending on your intolerance for risk, and the overall risk level in your situation, you may want to get a cheap, unattractive "beater" bike that is less attractive to thieves, and less of a loss if stolen. If the risk is extreme, you may wish to purposely devalue the bike with the nastiest rattle-can paint job you can think of.
---
Sheldon Brown's lock-strategy page illustrates one locking method. By locking just the rear wheel to a pole, from a point where the rear wheel is inside the frame's rear triangle, Sheldon's method lets you use a smaller, lighter mini-sized U-lock that has less space for thieves' tools than a bigger lock would have.
Personally, I'm not comfortable locking just the rear wheel, and risk having stupid newbie thieves tangling with my rear wheel in an effort to steal the rest of the bike. Also, it's not very difficult to break a lightweight rim, then cut the tire & tube with a small cutter. In light of that, I personally prefer to lock the rear wheel and the frame, and I fill up the U-lock's shackle so there's still minimal space for thieves' tools, as shown in the photos below.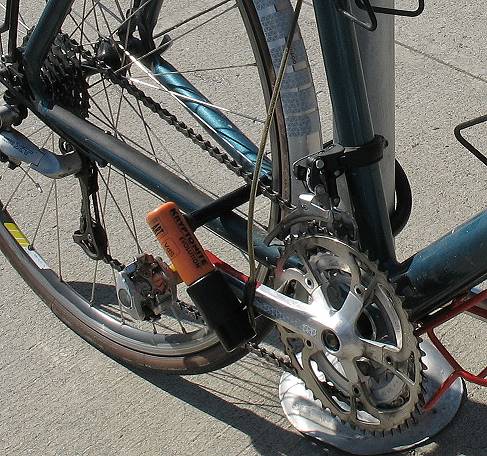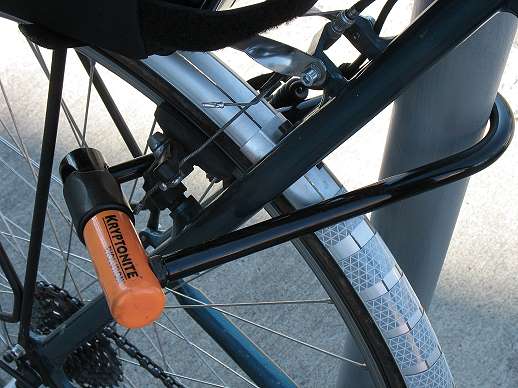 This is a long-shackle mini, the old-generation Kryptonite Evolution Mini LS. Kryptonite has recently improved the Evolution family with the Evolution Series 4. If you need something stronger, check out the New York Lock M-18WL, which has the 18mm shackle thickness of the New York Fahgettaboudit, but in a longer, wider shackle suitable for the techiques in my photos here. Bike shops in the USA can get them from J&B Importers for you.
---
---
OK, here's a sample locking job for you to critique. I've locked the rear wheel and frame to a parking meter, and locked the front wheel and frame together with a chain lock. I used a thin cable to tether the seat and seatpost to the U-lock.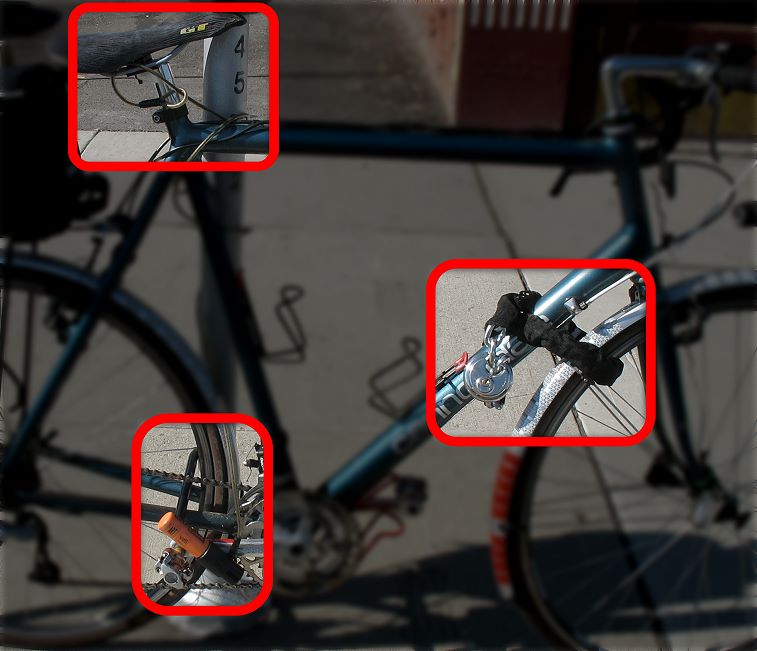 Quiz time! Let's pretend I lock this bike here every day after riding to work. What am I doing well, and what still needs improvement?
What I'm doing well:
The bike is locked to a strong, firmly-anchored object that thieves can't disassemble (a parking meter).
I've used two locks, and they're different types.
My primary lock isn't a cable lock.
The locks don't have unnecessary slack or open space to exploit.
My seat & seatpost are secured, and so is my front wheel. I took my bottles and light system so they don't get stolen.
What still needs improvement:
The only lock that is actually immobilizing the bike is merely a medium-security SoldSecure "silver"-rated lock, two stars in ART's ratings. If I park in a predictable place every day, I would want to upgrade my primary lock to a top-of-the-line model, especially for a recognized major-name bike like this Cannondale.
With two locks, I would be smart to look around the area for two poles that are a meter apart, so I can immobilize the bike to two separate objects with two separate locks, for even more deterrence.
Anchoring the bike at just one point (the U-lock) may tempt a thief to try to use the bike as leverage to "pop" the lock, assuredly damaging the frame whether the attack succeeds or not.
---
---
Let's try that again... Double-locking In the photo below, I found a parking meter and a strong pole that are about one meter apart, and locked the frame & rear wheel to the parking meter, and the frame & front wheel to the pole. I still don't have a top-rated lock, but now a thief has to defeat two different locks to take the bike anywhere, making the same pair of locks more effective. Besides raising the deterrence factor, this also stops thieves from using the bike itself as leverage to try to break either of the locks.
---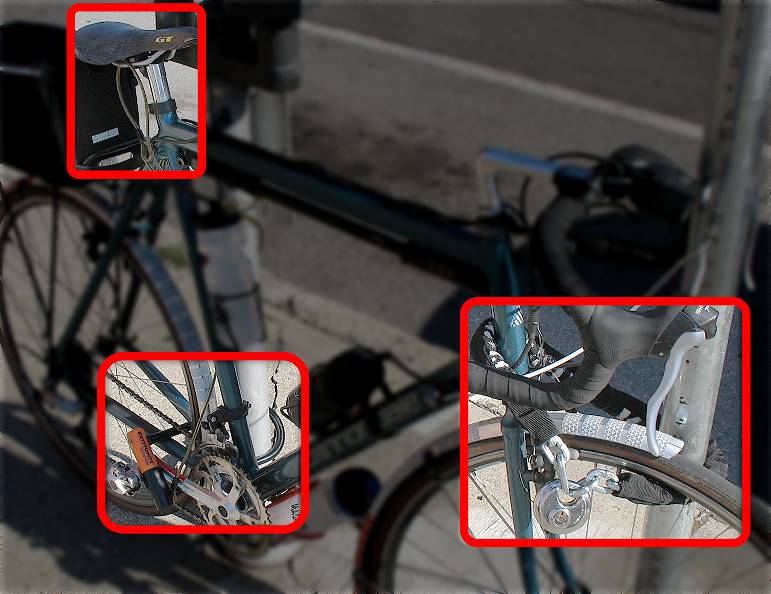 You can also lock to horizontal railings this way if they are at a useable height, either down at chainstay level or up at seatstay level. If you use two locks, line the bike up so you're locking to two separate sections of the railing, so cutting through the railing in one place won't free the bike.
---
Beyond this? If this still isn't enough security, my next steps would be:
Use a less-attractive bike
Move up to the best locks available, instead of these mid-range models
Try harder to get permission to park my bicycle inside my workplace!
---
---
Disclaimer: All locks can be defeated. Assess your situation, pick the deterrence level you want, and live with the risks that remain. Having said that, I hope this information helps you pick suitable locks and use them as effectively as possible.
---
Good luck out there. : ) Also see my tips for securing Windows computers against criminal virus & spyware writers.

©

mechBgon